---
About Us
ABOUT SAVETHETOYS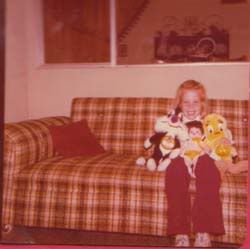 Both sides of my family originate from Iowa, my parents were the two that left. I am a Southern California Girl, born and raised by parents who passed down a strong work ethic and encouraged independence. I grew up on a Culdesac where you knew all your neighbors. All the kids came out to play together. We were surrounded by deserts, so we had plenty to explore. I loved coming across or setting up forts. I remember finding an adorable chair and table for a small child in one such fort, and dragging it home, because typically some other kids came along and usually vandalized your forts. I was into the Smurfs, Garfield and Cabbage Patch Kids. I was born in the early 70s but most of my childhood interests revolve around the 80s. My parents made you work and didnt spoil me with the toys I wanted. Under the tree at Christmas I usually found the cheap version knockoff of whatever toy was popular. So once I started to earn an allowance at home and get babysitting money on my block, I began to spend my own money and buy the toys I always wanted. I grew up on large Disney Records and various others. I loved my Disco Mickey Mouse and the Mickey Mouse Club Albums.
My parents owned furnished apartments all my growing up years. So I spent time as a kid sitting in vacant apartments as Mom scrubbed walls and cleaned carpets. I was always fascinated by those apartments where people left their things behind and Id love looking thru the stuff and imagining these peoples lives in my head. Mom had no problem digging items from the trash from the alley ways. Shed take me to thrift stores and this old used furniture store. Mom was not a collector, Mom was frugal.
I watched The Velveteen Rabbit and I began telling all of my stuffed animals one by one "Your Real". Id cover them all up with blankets at night but hated how cold they felt in the evening so I stuck them inside my covers so there bodies felt warm in the AM. On one trip to Goodwill I saw a Puppy Dog Plush that was dirty and sad looking, I took it out of the bin and told this Puppy I would get it, I would rescue and come back for it. I begged my mom and she let me get it, I remember taking it home and washing it.
After a stint with collecting Cabbage Patch Dolls, My Little Pony became the next thing. After my girlfriend got one I had to have one. Shortly thereafter Target Store was built near my house and if I had $20 I could buy 4 of them a week! My other friends would take trips out of town and visit Toys R Us stores, we didnt have one in my area. They would come home with fantastic finds. I finally got to take a trip after asking my parents. I remember Toys R Us in those days, huge shelves going up high, but at that time you could find older toys on the shelves, they didnt clean everything out for new inventory. I dived into collecting My little Pony for several years and wanted to own every single one. Because I was a little older, I kept everything and took great care. I kept all original accessories and packaging of my toys.

When I was in Jr High we took a trip to Iowa and that was when I saw my grandparents old home still standing and could not believe it. Everyone told us to "Stay away, its dangerous" My two siblings and I snuck in the service porch door only to find the house fully furnished and PACKED full of stuff. Nobody lived in the home for sometime, the deep freezer was still plugged in and full of food. My grandma lived in a trailer next to the old homestead. I was amazed at how nobody moved anything, they left it sitting as it was, the upstairs had bee hives in it and you could see them swarming in and out from the upstairs.

The end of highschool years I found my newest craze which was my crush on Johnny Depp of 21 Jumpstreet. And I began collecting teen magazines, posters, photos and swapping with pen pals all over the world for materials I couldnt find in the US. I had about 100 pen pals at one time. I remember loving the pen pal from Israel as she sent me things I would never see in exchange for what I sent her.
My Bedroom wall I covered in White 8 x 10 squares then designed the 21 Jumpstreet show logo with pencil/ink and crayons.
I stopped collecting, got married and had children. During that time we rented an old 1920s Craftsman home. Thus became my newest love, Old HOMES. We stripped down paint, I cleaned locks, I loved the character in the home. I took trips to Pasadena and San Diego and did old home tours and learned about the history of these homes. I also learned about Ebay from a guy name Robbie on Yahoo. I dont even recall what state he was in but more of the midwest or so. He was into selling Egg Plates and sharing stories with me about the items he sold online and urged me to try it out.
I ventured onto ebay in 1998. I remember a few of the first items I sold, A Box of Gingerbread Partylite Candles, a Vintage Goofy and Annie Tree Ornament. I must have sold about 5 dinky items and made around $100 off of them alltogether and I was now hooked! I begain to research My Little Pony toys and could not believe what I was seeing, I found groups and clubs and collectors on the internet. I got back into collecting my missing holes in my collection but I also began to sell some of my items. For those who knew ebay in the early days, prices went HIGH and bidding was crazy. Id just keep clicking refresh and watch the prices climb. At that time I sold a My Little Pony Dream Castle Playset of mine for $400! I practically fell off my chair.
I began to just sell items around the house or items I found in thrift shops for a hobby, mainly to support my collecting habit.
In the 90s I got a job part time due to my hobby with a Film Archive. I spent one on one time with the wife who sat me down and trained me on Original Movie Posters, Lobby Cards, old Hollywood collectibles. She would take me to conventions where people sold this stuff and old celebs signed autograph photos. (I met "Porky" from the Little Rascals who was my favorite as a kid!) I also got to meet Laverne, Shirley and Carmine!
Lauren trained me all about Movie posters and spent a lot of individual time with me, she was a mentor and a good friend and like another Mom you could tell anything too(She has since passed but her memory lives on)
I worked on ebay sales for the company selling Movie Posters, Lobby Cards, Magazines, anything paper related, then that turned into selling 16mm Feature Films, Cartoons and 35mm Movie Trailers. As with anything I have seen the fluctuation with ebay and the good selling times and when sales start to slow. I began archiving and watching 16mm footage, my favorite items were watching Old Home Movies. I would always wonder what happened to these people, did there families know that they have history here on film? And Id try and trace where the films came from.

I also took another trip back to Iowa with my siblings and Father and I was able to visit my Dads old home. Its still in the family and checked up on. Hasnt been lived in since the 1960s. My big sis and I scoured the old two story, the windows broken out, foundation crumbling, floor unsafe, Dad kept warning us, so we went in and walked along all the edges and managed our way up what was left of the stairway to an upstairs bedroom. The floor was full of papers, shoes, various things, we found school work of my Dads from when he was a little boy! That had been there for a good 60 yrs plus! But the big thing was the Mahogany doors downstairs that I fell in love with. All we had was a few hand tools, my big sis was upstairs sorting thru papers and I went to work getting a screwdriver from Dads truck. I was able to unscrew both doors, walk along the edges of the walls(the floor is open and you can fall thru into the basement) and I managed to manuever them each all by myself through 3 rooms out the backdoor, I went and got my Dad who said "All be Damn!" I thought for sure theyd have to be left behind in Iowa as we had to fly back, but my Dad backed up his truck and the doors fit perfectly under his trailer hitch, so a few weeks later the doors arrived in California! I love these doors! From an 1895 Home! Pictures below feature the old House back when it was lived in and my Dad was a little boy, then pictures from my visit, and then once I got them home and cleaned them up with some Murphys soap and lemon oil.

In the Upstairs window of my Grandmas house in Iowa
Big Sis at Grandma Lawrence's House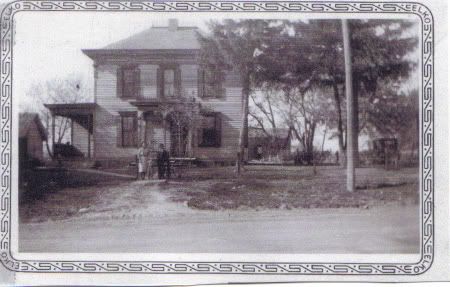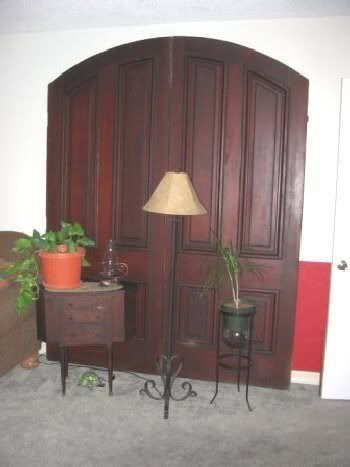 I dream of living in an old home Craftsman, Spanish style, Mission, something of that type one day, a place I can work on and restore. Somewhere with character and a history behind it. (update 2012 Im now in an Old Craftsman home )

:) Love from the Toy Lady!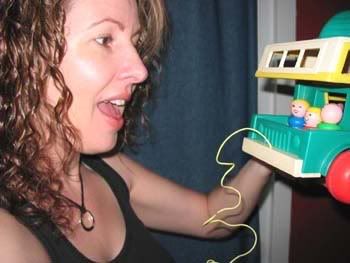 ---